Making Miracles with Hope
Join us on Saturday, October 28 as Hope International Presents Making Miracles! Come dressed in your most glamorous or creative costume. The event is at the The Joule Hotel, 1530 Main Street, Dallas, Texas 75201. We will have a seated dinner, silent auction, a raffle, casino games and live music!
Silent Auction Bidding Starts October 25
Whether or not you can attend the event, you can still bid in our silent auction! Register for mobile bidding now. PLEASE NOTE: mobile bidding does NOT work in Internet Explorer. You will need to use Chrome, Firefox or Edge.
Raffle Ticket Item – $1000 Gift Card!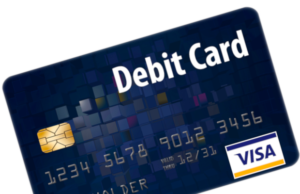 Save $250 over individual tickets
Tickets
Early Bird: Register by Sept. 30 and save $25/ticket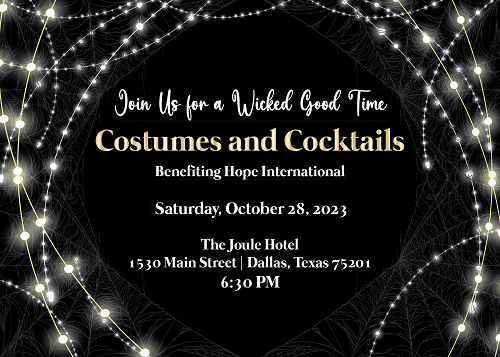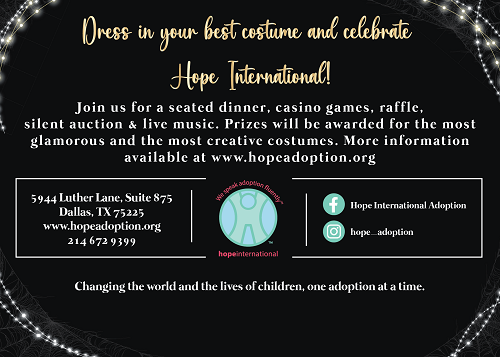 Can't make it to the event? Donate online.
Hope is involved in so many great things. And you can help, too. You can donate to our General Fund, Humanitarian Aid, Making Miracles Gala, Adoption Grant, or to a variety of in-country projects such as orphanage building projects, buying a solar powered water heater, or bedding for children.
Mail Check
Make checks payable to and mail: Hope International 5944 Luther Ln, Ste 875 Dallas, TX 75225
Donate in honor of someone — to recognize a birthday, celebrate a marriage, or honor a life. Hope will send a card in recognition of your gift.
Shop Amazon.com — if you shop from Amazon.com, use this link each time you make a purchase and Hope will benefit from it. Shop at Amazon.com now.
Non-Monetary donations — Have an old car you want to donate? Or a lakehouse you'd like to donate for a week for our annual Making Miracles Gala? Contact us to discuss your gift!